I'm going to start doing posts on my top 10 favorite design elements, it may be furniture, lighting, bedding, artwork, accessories, carpet…well you get the gist…
Note these aren't in any particular order.
1.  This bed is that perfect balance of sophistication and elegance.  It makes me want to be served breakfast in bed.
Newport Bed E. J. Victor 
2.  A Saturday morning bed, complete with the morning paper, a laptop and a cup of Illy coffee with steamed milk, perfection!!
Continental Classics Upholstered Bed – Hickory White
3.  Quintessentially Hollywood, simple, chic…mimosas come to mind. 
Julia Gray Mirrored Bed – E.J. Victor
4.  A gentleman's bed. I can see this paired with a masculine plaid or the total opposite, softened with white walls and gauzy cotton sheers blowing in the breeze. 
Island Classics Hi Low Poster Bed – Hickory White
5. Perfect for a young lady or in the cottage at the beach.  Relaxed and comfortable. Fabulous upholstered with chunky linen fabric, brightly colored leather or natural woven grass cloth.
Helena Bed – Oly Studio
6. Another sophisticated look with a modern twist.  Although hard to see, it features nail head trim along the bottom of the side and foot rails. 
Upholstered Bed – Precedent Furniture
7.  Elegant but not too overdone.  I ordered this bed in a dark sable finish, with the swag  and fluted detail highlighted in antique silver stripe.  The headboard was upholstered in a  beautiful  natural woven fabric with antique silver nail head trim.  Magnificent!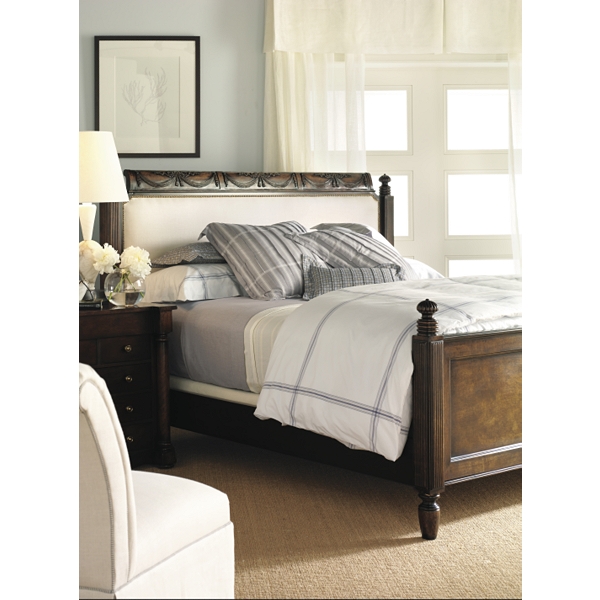 English Regency Upholstered Bed – Hickory Chair
8.  The wonderful thing about this bamboo inspired poster bed below, it's available in 17 colors, imagine the possibilities!
Summerland Key Bed – Somerset Bay Home
9. Yin and Yang…equally comfortable in a traditional environment and has clean lines to go more  modern without being too edgy.  
Annie Selke Canopy – Vanguard Furniture
10.  Last, but certainly not least.  I'm drawn to anything  Louis XVI, he is by far my favorite Louis:).  As a designer, we see so many options and admire so many styles and see what's being introduced before the general pubic does, which frankly can make it difficult to make a decision about our own homes.  But this bed, I visited each Market and it was the benchmark for which I compared all other beds for my room, so hence I now own it and I absolutely love it!  See it pictured in my bedroom below. 
Louis XVI – Louis J. Solomon