Here's a snapshot of what's in the works for the first round of upholstery pieces being created exclusively for the INSTINCTIVE  INTERIORS  at home boutique. 
The Grace Chair
I'm having it covered in this fabulous Designer's Guild fabric called Ombrione in the color Ocean.  It's a beautiful washed velvet classic damask with a soft linen look ground.  As Designer's Guild describes it "timeless and elegant in the extreme", no truer words were ever spoken!!   The welt will be in a turquoise linen.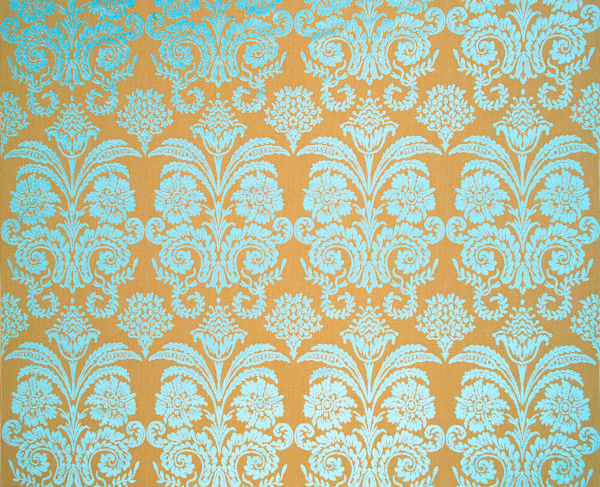 Designer's Guild –Pattern:  Ombrione/ Color: Ocean
One of the many benefits of having my own upholstery line is that I can use the fabrics that I've selected for the line, or at any point use a "to the trade only" fabric to completely customize the look at the boutique.  So expect to see designer fabrics and trims, such as Barry Dixon's new line for Vervain (see below) recently featured in Traditional Home or Barbara Barry's and Candice Olson's line of fabrics and trims for Kravet on the boutique floor. 
The first piece to arrive will be a loveseat in this classic English Saddle Arm style with a Flax colored  linen fabric and beautiful trim detail.  I've chose a loveseat for the floor because of the limited space but the pieces are available by the inch.  So if a client needs a 101" or a 74"sofa, the factory can accommodate the request.   Also available are optional leg choices.  All will be standard with spring down seat cushion, other cushions are available as well.
                    English Saddle Arm Sofa with Turned  Leg,
      Tapered Leg                                                                                Brass or Nickel Cup & Caster
                                                      Tapered Leg with Spade Foot                                            
Here is the fabric and trims and how they'll be applied:
Classic Linen (actually a viscose and linen blend) in the color Flax –
beautiful and durable yet soft to the touch.
A  1-1/2" braid in the color Linen will be applied at the base  just above the legs
a mini cord in the color Linen will replace all the welt. 
The love seat will be dressed with pillows in this new fabric from Barry Dixon's line for Vervain.
Barry Dixon for Vervain – Pattern: Ishtar/ Color: Turquoise
The image is not a correct depiction of the color it's a beautiful turquoise that complements the chair fabric perfectly.
I expect this shipment to arrive the end of June early July.  Stop in a see and sit in the new line.
Also coming soon will be window treatments!!!